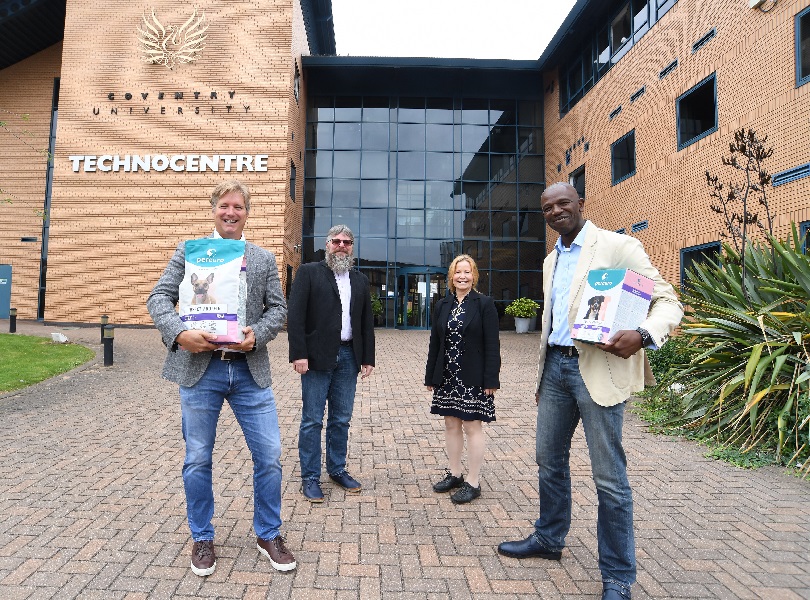 University helps market low-carbon pet food brand
X
Sign up for free to receive the latest news straight to your inbox
Register now
A sustainable pet brand that pioneered the production of low carbon pet food has contracted with retailers in the UK and around the world just six months after putting their product on the market in the market with help from Coventry University.
Percuro Primal Pet Food, which is headquartered in Henley-in-Aden, Warwickshire, has secured funding from the European Regional Development Fund through the Innovate EDGE UK Proof of Concept program offered by Coventry University.
The Innovation and Growth Program supports SMEs in Coventry, Warwickshire, Greater Birmingham and Solihull in the early development of a new product through access to finance, personalized innovation support and workshops.
The funding Percuro was able to access through the university was essential for him to carry out a comprehensive feasibility study that helped establish market demand for the product through extensive consumer research among pet owners across the country. UK and Germany.
As a result, it now sells direct to consumers in Europe through its own website and has supply contracts with major UK brands such as Pets at Home, Waitrose, Ocado and Amazon, as well as others overseas. in Italy, Singapore and South Korea.
The company was founded by Denise Saber, who has a background in investment management, working with family and institutional investors around their sustainability agenda, and Managing Director Brett Vye, who has a background in the animal industries. company and brewery. They are part of a five-person management team.
Saber said: "We came out of the 'Proof of Concept' research that the team at Coventry University helped us fund with a clear market that was commercially viable and that also helped us craft a narrative. The support from the university really got us started and was an important part of our process to get to where we are now.
"We were convinced that we had something special, but we had to test it. We ranked each of the ingredients against peer groups, comparing the effect on the health and well-being of pets (low inflammation) and the effect that supplying each ingredient would have on the planet. . We then conducted an independent five-day two-bowl palatability and digestibility test with 20 dogs and compared to our main UK competitor 9 out of 10 dogs preferring Percuro.
"We also knew anecdotally that sustainability would be important to consumers, but we needed something that really helped us understand if we were on the right track with something that consumers would actually buy.
"We believe this is innovation at its best because of the positive impact it can have on animal health and life expectancy, as well as on climate change. By having 100% sustainable insect protein and traceable plant-based ingredients and 100% cattle-free, this is a company that can grow and become a leading brand in the world.
Percuro is the Latin word for "a complete cure" and the use of black soldier fly larvae as a source of protein for its products is key to the company's sustainability credentials.
Dogs and cats alone consume 20% of the world's sources of animal protein such as meat and fish, but like the edible insect protein in Percuro's pet foods only use 'a fraction of land, water and energy, this is climate change. positive diet for pet food.
All of its plant-based ingredients are 100% sustainable, with no animal fats or hidden derivatives, and 95% come close to its manufacturing site in continental Europe, further limiting its carbon footprint.
Research funded by the University of Coventry found that the quality of the ingredients was the most important factor when choosing a food product for their pets. Many respondents were not aware of products that used insects as a source of protein, they were willing to at least try the product after reading the concept.
Others showed a positive response to pet foods with limited impact on ecosystems and said they would prefer a brand with a proactive stance towards the environment and spend more to do so.
Martin Lucy, Head of Operations and Development at Innovate UK EDGE at Coventry University, said: "Percuro is developing a new environmentally friendly product and access to ERDF funded grant 'Proof of Concept' Enabled them to undertake the research aspect of the project to better understand the size of the business opportunity and the best way forward, reducing the financial risk of their project.