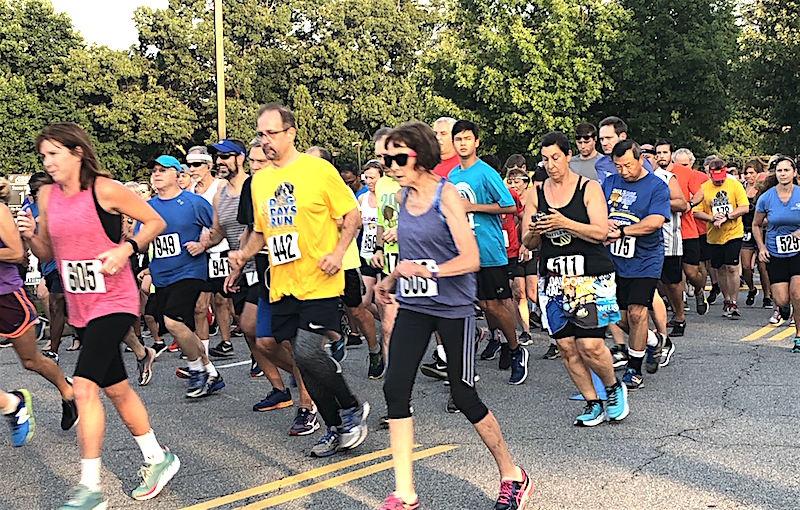 The Rotary Club of East Cobb is looking for sponsors for the Dog Days Run
The 17th Annual dog day run is in a little less than a month and it is by far the largest fundraiser for the Rotary Club of East Cobb.
Last year, the organization raised nearly $100,000 for a range of local nonprofits and drew the interest of more than 800 participants along a course centered around the McCleskey Family-East Cobb YMCA (1055 East Piedmont Road, between Roswell Road and Sewell Mill Road) on itself.
Dog Days Run coordinator Butch Carter, a longtime Rotary member, said the goal this year is to beat those numbers.
"It's a huge run but we'd like to reach a thousand," he said of the number of entries for the 5K event.
However, he notes that while "every runner matters," entry fees are only part of the money the event brings in.
Carter said there is a real need for more local businesses and organizations to sign up as sponsors, and Rotary members are busy knocking on doors and ringing the phone lines.
"That's what we need to focus on," said Carter, whose auto repair shop Honest-1 is one of this year's sponsors. "The vast majority of our donations come from some great local businesses."
Additional sponsors include the Indian Hills Country Club, the YMCA, Pinnacle Orthopedics and the Malon D. Mimms Company.
Sponsors range from $250 to $10,000, and $1,000 or more will get a sponsor an on-course table at the YMCA grounds.
"There's great visibility for a company that's available there," Carter said; Click here for sponsorship details.
Sponsorship levels also include a company's name on the race shirt and event signage, as well as mentions on social media and website, and verbal acknowledgment during the event.
A presenting sponsor — with $10,000 — is not only the subject of a featured podcast highlighting their organization, but also receives eight complimentary passes and may make remarks during the Rotary club's give-back ceremony.
This is a dinner held in the fall to announce the recipients of the Dog Days Run proceeds.
Recent organizations include Aloha to Aging, The Cobb Library Foundation, Family Promise, The MDE School, The Cobb Public Safety Celebration, The Exenstion, YMCA, and the AVID program at Wheeler High School.
Carter said organizations have to apply each year, and they "have to explain what they're going to do with the grant money."
All sponsorships also include at least one free entry to the race.
Registration is $30 for other participants through July 31 and $35 thereafter, as well as for "phantom" runners competing elsewhere.
The Dog Days Run begins on Saturday, August 6th at 7:30am and registration for race day begins at 6:30am
There are also cash prizes for category winners, including overall male and female, champion male and female, grandmaster male and female, and senior male and female.
For registration and more information, click here. For voluntary information, click here.
Related:
Get our free email newsletter!
Every Sunday we round up the week's top headlines and look ahead to the coming week in the East Cobb News Digest. click here to sign up and you're good to go!
Related