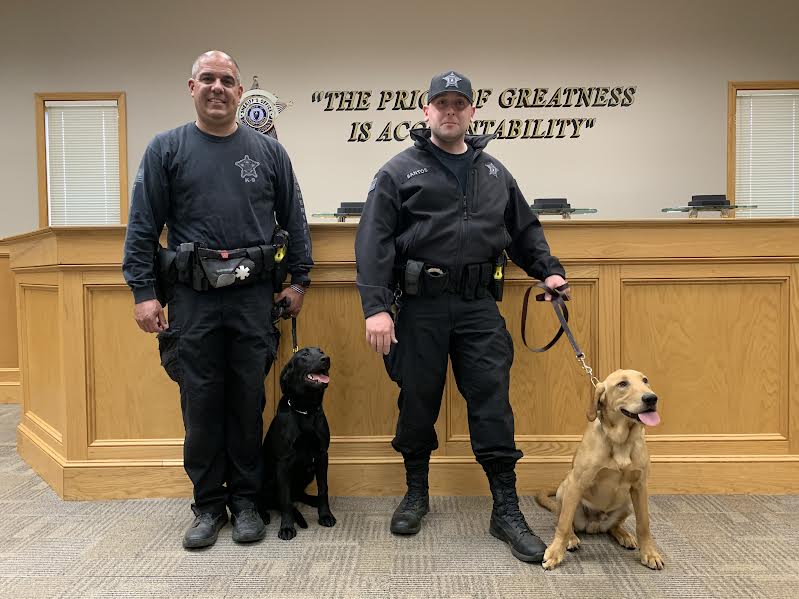 Sheriff's office dogs trained to detect Covid-19
Bristol County Sheriff's Office dogs use their noses to keep the public safe. Trained four-legged officers can detect heroin, fentanyl and other dangerous drugs; firearms, ammunition and explosives; and even people who are missing or in distress.
This unit can add another distinction to its mantle: The Bristol County Sheriff's Office is the first law enforcement organization in the United States to have dogs trained to detect COVID-19.
"Bristol County and the Commonwealth of Massachusetts have come a long way since the pandemic began last year," Bristol County Sheriff Thomas M. Hodgson said. "Today festivals are taking place, restaurants are full and concert halls are crowded. We have made so much progress, and our new COVID-19 detection program is a way for the people of Bristol County to keep a step ahead."
Similar to drugs and weapons, COVID-19 has a unique scent that two dogs from the Bristol County Sheriff's Office are trained to detect. The program was developed by the International Institute for Forensic Research at Florida International University, which used a similar program for dogs capable of detecting fungi in crops and adapted it for the detection of COVID. Florida International University is using dogs for COVID detection on its Florida campus.
"It's science," said Captain Paul Douglas of the Sheriff's Office at a small canine graduation ceremony held recently. "This program was developed by professors, doctors and scientists at CRF, and we couldn't be more proud or delighted to be running it here in Bristol County."
Two canine teams attached to the sheriff's office are trained in COVID detection: Captain Douglas and his partner Huntah, and Officer Theodore Santos and his partner Duke. Huntah (Hunter with a Boston accent) is a nine month old black female and Duke is a nine month old male, a golden lab / retriever.
Officials at Florida International University have provided medical masks worn by COVID-positive patients for training odors. An ultraviolet system has been used on the masks which kills the contagious part but leaves the smell of COVID, allowing canines and officers to use it safely as training tools. The Sheriff's Office is working with the New Bedford Fire Department and local EMS providers to acquire masks worn by local COVID patients for future training aids.
Lt. Kenneth Almeida and Sgt. William Dillingham of the Sheriff's Office has led the training program in recent months for Douglas and Santos. In the coming months, Huntah and Duke will also be trained to locate missing people.
The COVID detection program, in which dogs can also detect advanced variants such as the Delta variant, is not a substitute for a COVID test, Douglas said.
"It's best to think of it as a decontamination tool," said Captain Douglas. "Dogs can detect the COVID scent on a counter or table if it has been recently touched by a COVID-positive person, or even detect the scent on a handkerchief used by a person with COVID. "
Hodgson and Douglas thanked Dr David and Jane Askew of Dartmouth Dental for the donation to buy Huntah and Duke, and Kathy Costa of Katz Pet Supply in Somerset, who donates dog food for Huntah, Duke and the other dogs in the Sheriff's Office, Fall River and Somerset Police Services.
BCSO COVID Canines are available for schools, municipal buildings, nonprofits, nursing homes, aging councils, public safety facilities, medical facilities and more in Bristol County . Anyone interested can send a letter of request to Sheriff Hodgson, 400 Faunce Corner Road, Dartmouth, Ma 02747.
Public safety organizations looking for an urgent COVID scan can contact Captain Douglas at [email protected] or Supt. Steven Souza at [email protected].