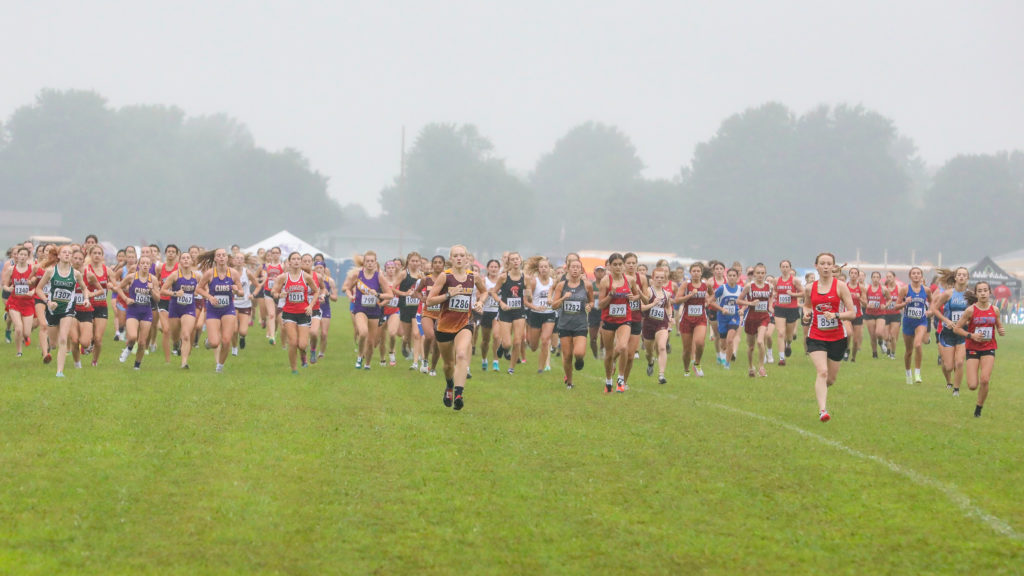 Seniors take top honors at SWCCCA meet
By Michael Cignoli (for OzarksSportsZone.com)
BOLIVAR — The Southwest Cross Country Coaches Association's annual season-opening meet has been dominated by underclasses for the past three years, with seniors winning just one of six races.
Not this time.
Kickapoo senior Tyler Harris and Webb City senior Abigail Street picked up victories in their respective events at the SWCCA's Richard Clark Invitational on Saturday at Bolivar Golf Course.
Harris won the boys' race with a time of 15 minutes, 33.06 seconds, 14 seconds ahead of any other competitor. Street's victory in the girls' race was even more decisive, as her time of 19 minutes, 7.3 seconds was more than 20 seconds off second – and only two other runners broke the 20-minute mark.
It was the first SWCCCA career win for either rider, as they each set the tone for senior seasons that could very well end in state podium returns.
As a junior, Harris finished second in the SWCCCA behind Notre Dame commit Daelen Ackley, who won the race in each of his last three years at El Dorado Springs.
Harris went on to win an individual conference and district title, and his eighth-place finish in the state meet helped the Chiefs claim their first team title since 1995.
"He's one of the best dogs anywhere you go in the state," Kickapoo trainer Jeremy Goddard said. "He works his tail. Have a great summer. He has earned the right to go out there and compete with anyone. He has a certain confidence right now that he feels he can run with anyone. He rode a very confident race.
Harris' winning time on Saturday was 20 seconds faster than he posted in this race last year, although the 2021 event featured universally slow times after heavy rain turned the course into a quagmire. But Harris led this one wire to wire and pulled away from Hobbs Campbell of Joplin, who crossed the line in 15 minutes, 47.45 seconds to take second place.
"Hobbs Campbell is a stallion and we know it and he knows it," Goddard said. "(Harris) just came out and headed all the way and said, 'If you can run with me, come do it.' And that's pretty brave.
CLICK HERE FOR PHOTOS OF THE BOYS RACE
Goddard said the Chiefs didn't discuss any strategy ahead of the season-opening race, in which virtually every regional school with a cross-country program descends on Bolivar to see where their runners compare to the best. of the best – whatever the class. size or conference.
"It's just 'Go running,'" Goddard said. "Leave the worry and all the bullshit that comes with expectations and just go race and go compete. And then we'll talk about what we can do differently and better.
Few schools in attendance have higher expectations than Kickapoo, which fires six of the seven boys from last season's state championship team and seeks to be the first Springfield school to win back-to-back titles.
"They just have to learn to run with that expectation," Goddard said. "And that expectation is heavier than a lot of people realize. So we try to make sure that we manage. All we can do is what we can do and fix what we can fix and then we'll see how it goes.
So far, Harris is handling the weight of those expectations well.
"Sophomore year I did a lot better than I thought I would," Harris said. "In junior and senior, I must have felt that I had to continue like this. Before a race, it ruins your mind to think 'I have to do these things', but this season my focus is really on having fun with the races. I'm here to support my team and do what I can and that makes racing so much better and easier than just trying to get to a certain time or place.
The Chiefs had a legitimate chance to sweep the individual SWCCCA titles as senior Klarie Brown won the race as a rookie and junior and was a runner-up as a sophomore.
But Brown twisted her ankle last week and was ruled out of the race as a precaution.
"We nursed her through that and just didn't feel like racing today was a very good idea," Goddard said. "She'll be back next week hopefully, but we just have to treat her."
Without Brown, the girls' race started without a consensus favorite – although Street quickly established herself as the favorite. After finishing sixth in the SWCCA competition a year ago, Street slashed her time by 37 seconds and pulled away from Rolla's Isabella Frost to win easily.
Frost (19 minutes, 27.41 seconds) and Spokane's Lily Hunsucker (19 minutes, 58.25 seconds) were the only other athletes to finish in under 20 minutes – or within a minute of Street.
"I'm really proud of her," Webb City coach Dustin Miller said. "She has really big goals this season. Her training, we're really fit. We have specific things we're working on towards the end of a race to help her achieve her goals and we'll just see how the season But if she continues to follow regular training sessions, I know she will have the opportunity to achieve these goals and do great things.
Street spent her freshman year at McAuley Catholic, where her personal best was around 23 minutes and 30 seconds, but became one of the state's elite in Webb City. She finished fifth in a personal best time of 18 minutes, 44 seconds at last year's state meet.
CLICK HERE FOR PHOTOS OF THE GIRLS RACE
The Cardinals are hoping Street can squeeze an extra 45 seconds off that time in his senior year.
"My workouts are scheduled for 6:10 p.m., but if we're that close, we might as well go for the 6:00 p.m. break," Street said. "We will see."
"I think she'll have a chance to break 18 minutes," Miller added. "So that's pretty special. She keeps our boys on their toes during practice, that's for sure.
While Saturday's time was a step back from her record time, part of that can be attributed to the fact that no other competitors were close to her.
"Honestly, I think I fell asleep a little bit in the middle of the race and got a little zoned out," Street said. "If I had someone to race against, I think it would have helped me push a little bit more to go faster. I think it was just more of a mental thing than the actual course.
It's something the Cardinals are focused on, Miller added.
"We are working on closing harder," the coach continued. "It's not her strength, but we're working from a distance. She hasn't had a chance to do that yet. Last week we picked her up to run with teammates and she ran hard for part of the last mile, but then found herself alone. And today, being alone is hard. She did what we had to do. We expected Klarie and Klarie weren't there, so we We just did what we had to do and raced some quality girls and got a win. And I'm proud of her."
The SWCCCA meet was the second straight cross country meet Brown has missed. She was unable to compete in the state competition after contracting an illness that was determined to be COVID-19.
"We didn't know it was COVID," Goddard said. "We just knew she was sick and she came over and tried to warm up and try, but it just wasn't going to happen. It's obviously a disgusting feeling as she was 11th the year before and sixth the year before. So, there's all kinds of horrible things with that. This one is just what it is. It's a seasonal meeting. We'd love to run her and see what form she's in and help the team out, but there are those fixtures you need to sit down to help your season and that's just one of them. them for her. Not much on this one.
TOP 10 BOYS
1. Tyler Harris, Kickapoo — 15:33.06
2. Hobbs Campbell, Joplin – 15:47.45
3. Evan Stevens, Webb City – 15:54.52
4. Sean Walker, Buffalo – 16:00.48
5. Chase Sorrell, East Newton – 16:03.58
6. Grant Musick, Kickapoo – 16:06.85
7. Aaron Ashley, Nixa – 16:10.18
8. Ian Horton, Joplin – 16:11.22
9. Kyle Keltner, Kickapoo – 16:11.79
10. Sam Rinehart, Glendale – 16:16.91
TOP 10 GIRLS
1. Abigail Street, Webb City – 19:07.30
2. Isabelle Frost, Rolla – 19:27.41
3. Lily Hunsucker, Spokane – 19:58.25
4. Kopelyn Delong, Ozark – 20:11.99
5. Ayden Spotila, Bolívar – 20:15.55
6. Ellie Webb, Camdenton – 20:18.99
7. Kiersten Potter, Lamar – 20:30.60
8. Kristin Probst, Republic – 20:37.86
9. Cera Eckenroth, NCA – 20:44.55
10. Charlotte Cones, Kickapoo – 20:45.39