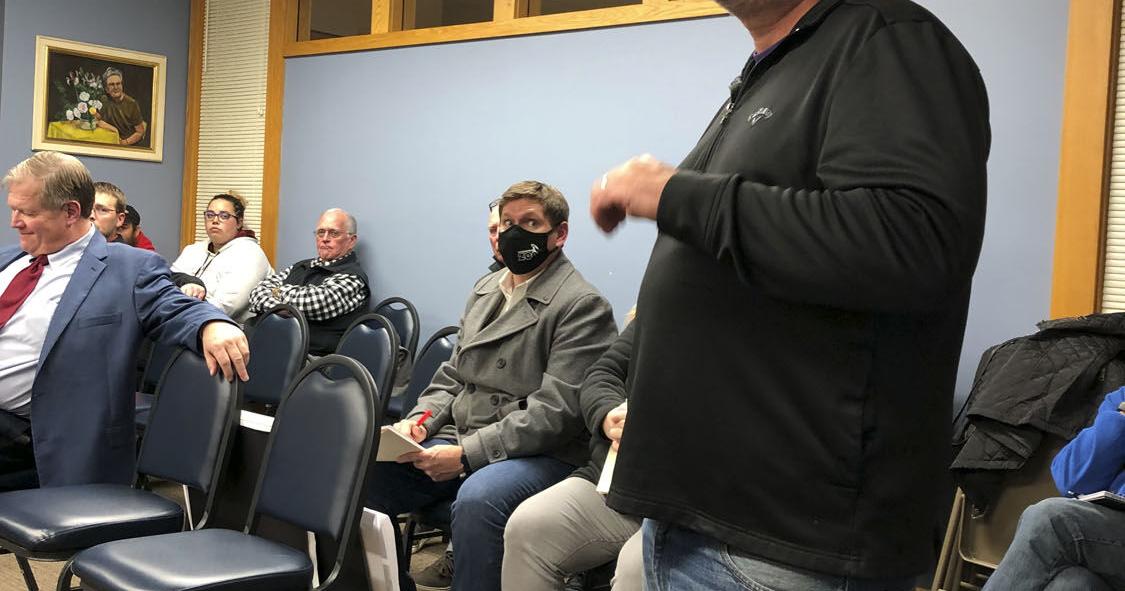 Plans for the proposed dog park are discussed | New
[ad_1]
SYRACUSE – Syracuse City Council members saw a concept drawing of a proposed dog park at Tuesday night's meeting, and while they liked the idea of ​​a dog park, they didn't not convinced by the proposed location.
Park Superintendent Chad Jonsson presented a design for a potential dog park for the city of Syracuse, a project he is working on with Chamber of Commerce CEO Renea Salyer. He reminded council that the parks department had received a donation of $ 35,000 for a dog park and estimated that they would need $ 100,000 to complete it.
They had to develop a plan to apply for grants and so they used the donation to develop the plans. Looking at the potential properties, the one they used for the plan was in Main and Dolan, where the old dog catcher building was located. According to Jonsson, it's a fairly accessible area and the city already owns it, so they asked if the council would allow them to develop it into a dog park.
"This is an essential property for the Riverfront District, how do you see it fitting in? Asked Board Chairman Larry Siegel.
Jonsson offered an answer.
"Any park would be an advantage for your development – at the moment it's just a green space," he said.
Siegel said he wanted to see a more comprehensive plan before he could come to an agreement. A few council members mentioned that they liked the plan and the location, but were concerned that the city was being asked to pay for it.
Jonsson said they were not asking for money and he said Salyer knew there was no money in the park's budget for this either, but would instead be funded by donations. and grants.
Salyer said the chamber has plans for fundraising. She said plans for the dog park also include green spaces, walking trails, and the potential for artistic and cultural spaces. "It's not just a dog park," she said.
Salyer said polls they conducted showed 41% of Syracuse residents have two or more dogs and local vets said 80% of their clientele have dogs. She said most of these dog owners have been referred to a dog park in Warsaw so they can return to Syracuse.
Jonsson said they would charge a membership fee to help maintain the dog park, like other dog parks in the area. He said Nappanee shared that it costs them around $ 650 a year to maintain the dog park and most of that is covered by membership fees.
Siegel said he wasn't saying no, but that the Riverfront District had a blueprint, so he would need to see how that would work in that plan. No action was taken.
Later, at the end of the meeting, former council member Tom Hoover said he didn't think having a dog park in the middle of town was a good idea.
Jonsson also reported that the Parks Department is teaming up with the Chamber and Chautauqua for the old-fashioned Christmas and tree lighting in Oakwood this Saturday rather than having two separate tree lights. He said the city's Christmas tree will be lit without a celebration next week.
Vacation in the alley
Several people left the Syracuse city council meeting with requests denied or delayed on Tuesday night, including neighbors at 404 and 406 Front Street who were hoping to clear the driveway between their two homes.
A public hearing on the matter was held, but even before the meeting began, Martha Stoelting, 402 N. Harrison, spoke out against it.
"Unless Mr. (Steve) Snyder gives me a compelling reason, I'm totally against setting a precedent for leaving an alley," she said. "The city controls it and can make money on the lane by leasing the jetty space and its public access to the lake."
Lawyer Stephen Snyder presented the request to the Ted Christofolis Revocable Trust board. Snyder said the lane between 404 and 406 N Front St. has never been opened and is not owned by the city. Snyder said it was owned by adjacent landowners; the city just has priority. Snyder said this has always been an owner-maintained grass driveway and has never been used to launch a boat.
Snyder said that by eliminating the public road, it eliminates the public's right to walk between the two houses. He said the city's highway dates back 120 years, so it's questionable whether it is still in effect. He told council that if they quit they would add the property to the tax rolls.
"You don't get any income for it now," he said. "If released, neighbors said they would divide the driveway between two properties by adding six feet to each with an estimated value of $ 36,000."
The neighbors were in attendance and one of them, Don Emahiser, of 406 N Front St, said the town could raise a lot more money by putting the aisle on the tax rolls versus the costs of $ 100 dock. He said they mowed it down and maintained it including repairing the stone wall etc. Emahiser said no one was using the alley.
Martha said she did.
"Not everyone lives on the lake," she said, adding that she walked her dog there.
Emahiser said she was more than welcome to continue to do so.
Council member Bill Musser asked why this is happening now after all these years and Snyder said it was a question of land value.
Council member Paul Stoelting voted not to evacuate the lane and Musser seconded. The order was not approved.
Annexation of the Kern road
After months of meetings and residents expressing their displeasure at being annexed, the Kern Road annexation order was passed without further comment from council or the public. The area to be annexed is approximately 95.3 acres. It includes the new ball field that the city is developing.
Wage Ordinance
The 2022 Wage Ordinance for City Officials and Employees was also passed without comment. The ordinance reflects a three percent increase across the board.
Some of the approved salaries include City Manager, $ 2,616.42 per pay period plus longevity, Chief of Police, $ 2,477.61 per pay period plus longevity, Park Superintendent $ 2,419.33 per pay period plus longevity. Minimum hourly employees are $ 7.25 per hour with maximum hourly employees in the clerk's department at $ 25.73 and in the general manager's department at $ 30.24. The president of the municipal council will receive $ 8,380.64 per year and the other members of the council $ 6,992.53 per year.
Other public contribution
Tyler Kelsey, architect at Arkos Design and Kim Blaha, director of the Syracuse Public Library came to share the library's expansion plans with the board.
The library bought a plot southeast of the existing library and wondered what the council would think of clearing the driveway between the library and the plot they had just purchased so they could expand their outdoor and indoor space. Kelsey said they would like to add 4,500 to 6,000 square feet as well as additional parking.
Paul Stoelting asked if they had spoken to nearby businesses as he believed the aisle was frequently used for deliveries. Blaha said there weren't many deliveries in that alley.
Musser said they certainly needed more space, but that plan could prove difficult.
"We have a great library in Syracuse," he said.
Salyer brought another question from the chamber, informing the board that she was applying for a High Street program for upscale neighborhoods, but in order to do so, the board must sign a letter giving her permission to apply.
Siegel responded to Salyer by saying that she was not asking for money "today" and asked her about it. She said that was okay, but that there might be a point in the future when the board might want to be a part of something – like a matching facade program, for example.
Siegel said the city has very limited funds.
"I don't plan on coming to town for the money because it's not easy," she said. "We just need you to support us and do what we want to do in this community to make it better and better. "
As the city attorney, Vern Landis, did not see the letter in advance, the council allowed Siegel to sign the letter after reviewing it.
Derek Church returned to council to find out what they had decided to be able to keep chickens on his property. He said the home inspector told him he could have chickens and then had 10 days to get rid of them. The council granted its chickens a 30-day stay last month.
Musser told the church that the council believes it should not allow chickens in town.
In other matters, counsel:
• There was a public hearing on the designation of an area as a target area for economic development – the old elementary building of Syracuse, which is being converted into apartments.
• Approved payment of the annual terminal connection fee through Kosciusko County at a cost of $ 5,000.
• Approval of the 2022 Water and Wastewater budget. The water budget is $ 813,150 – an increase of 4.29% and the wastewater budget of $ 1,054,800 – a decrease of 1.43%.
• Approved the name change from Brooklyn Street to Polywood Way.
• Approved the continuation of the current health insurance, PHP, as there has been a 6.6% increase over the 23% forecast.
• Approved Jay Rigdon as city attorney starting in January.
• Acceptance of an agreement with Turkey Creek Dike and Dam Conservancy to mow the area around the dam.
• I heard that Fire Chief Mickey Scott was planning to hire an Administrative Assistant and agreed to have that person's office at Town Hall.
[ad_2]