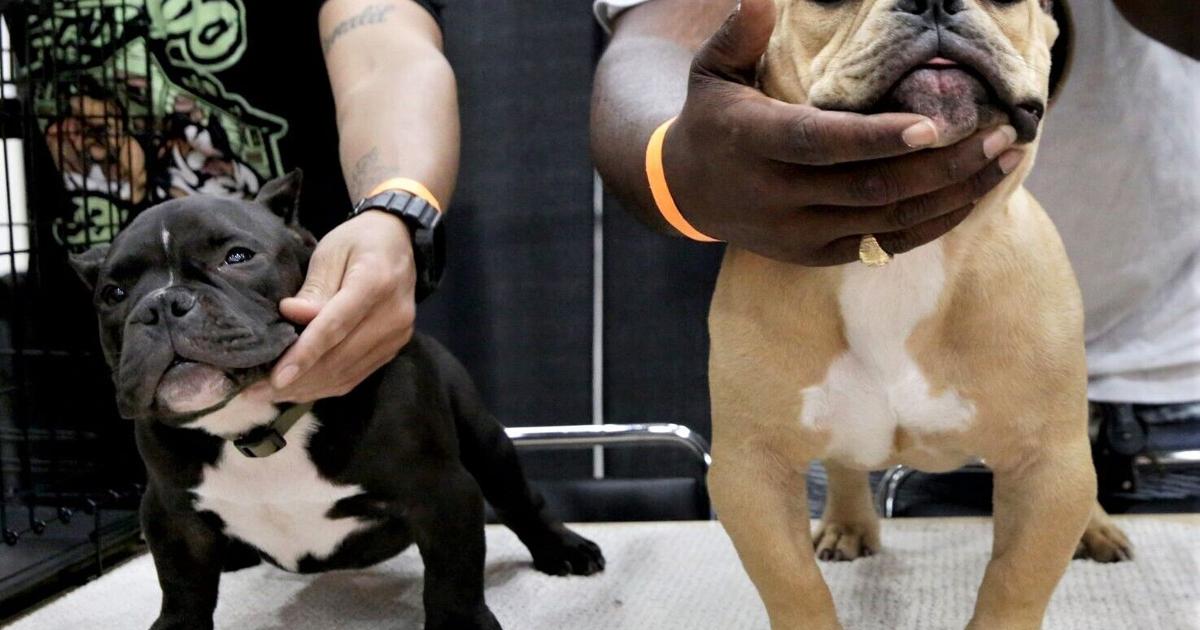 Music Videos, C-Sections and 5-Figure Price Tags: 'Bully' Dogs Are Booming | Subway
COLLINSVILLE — When it comes to "bully" dog breeds, don't let the name — or appearance — fool you, one adoring owner after another told the Show Me Bullz Dog Show.
Essentially pit bulls and bulldog hybrids, many bullies are stocky, with muscular builds and wrinkled faces, sometimes accompanied by chain leashes and spiked collars. Ask around, and their names can also exude tenacity – like Dozer and King Kong, for example.
"They've got a 'meaner' look…but they're big softies," said Sara Busby, assistant on-call vet at Dede-P Kennels, who was on hand for medical needs at the Show. "I've been bitten by more golden retrievers and labs than I have pit bulls or bully breeds."
The dogs have garnered devoted fans like Busby and many others as their popularity has grown. If Saturday's exclusive event at the Gateway Convention Center wasn't enough of a sign that the dogs are having their day, look no further than the four and even five-figure prizes breeders can get for bullies.
"It's a really big trend now," said Mark Smith, co-owner of Show Me Bullz, which hosted the weekend show.
Bullies come in a wide range of sizes, looks, and subcategories, resembling different shades or mixes of the pit bull and bulldog breeds from which they come.
They are newcomers to the dog breeder family tree, having only emerged in the past 15 years or so, according to breeders and organizers at Saturday's show. But they said that in the past few years alone, the dogs' popularity has reached new heights.
Some say the trend is fueled by legions of people who like the look of pit bulls or similar dogs, and want a particularly laid back temperament and demeanor.
"Soften it up, toughen it up, pretty much," said Kaream Williams, a part-time dog trainer and teacher from Decatur, Illinois, describing the origin of the bullies.
Bullies have also recently acquired a certain cultural cachet, appearing in the spotlight in a variety of high-profile settings, from fashion to music videos, the owners said.
Demand for dogs is strong – rivaled only, at Saturday's event, by the urgent demand for paper towels and plastic bags to clean up some emergencies, as dozens of dog owners and dogs patrolled the the event space.
Many attendees were part-time or full-time dog breeders, who said they were there to network and explore new relationships and sales. Additionally, if any of their bullies win trophies at the dog show festivities, the prize could earn them a lucrative "stud fee" through future breeding.
"The biggest goal is to get a stud fee for your dog," said Jamie Tucker, who was on the show with Williams and their 55-pound bully King Kong.
The show – which organizers hope will become a regular event, held once or twice a year – included categories for bullies of different types and sizes, from "micro" to "XL". Some other categories catered to separate breeds, such as four different types of bulldogs.
Travez Taylor, of St. Louis, left, the handler of the reluctant-to-pose pup, Prada, during the judging of the puppies on Saturday, July 2, 2022, at the …
Breeders at the event said bullies can sell for between a few thousand dollars each and even $50,000 each.
But they said that, despite the sky-high prices, the profit margins aren't that extreme, thanks to the high costs of raising the dogs and maintaining them. This includes everything from paying breeding fees to covering cesarean sections for mother dogs, which are often considered a safe way for them to give birth, thanks to their proportions. ("Biggest Head", after all, was its own prize category in the dog show.)
Like pit bulls — which bullies are often mistaken for — dogs can get a bad rap, many owners said Saturday. But their demeanor defies the stereotype that their tough-looking exterior helps to perpetuate.
Smith, for example, asked how many types of dogs could be thrown together in a room, like at the weekend dog show, and not cause barking or other forms of canine chaos.
Different participants said the laid-back vibe can be part of the appeal and even lend itself well to things like apartment living.
"They're not going to run 2 miles, like a lab," Williams said. "They are less busy dogs. …they will relax with you and watch Netflix on the couch.
Photos: Bully breeds show off in Collinsville
Show me the Bullz dog show
Show me the Bullz dog show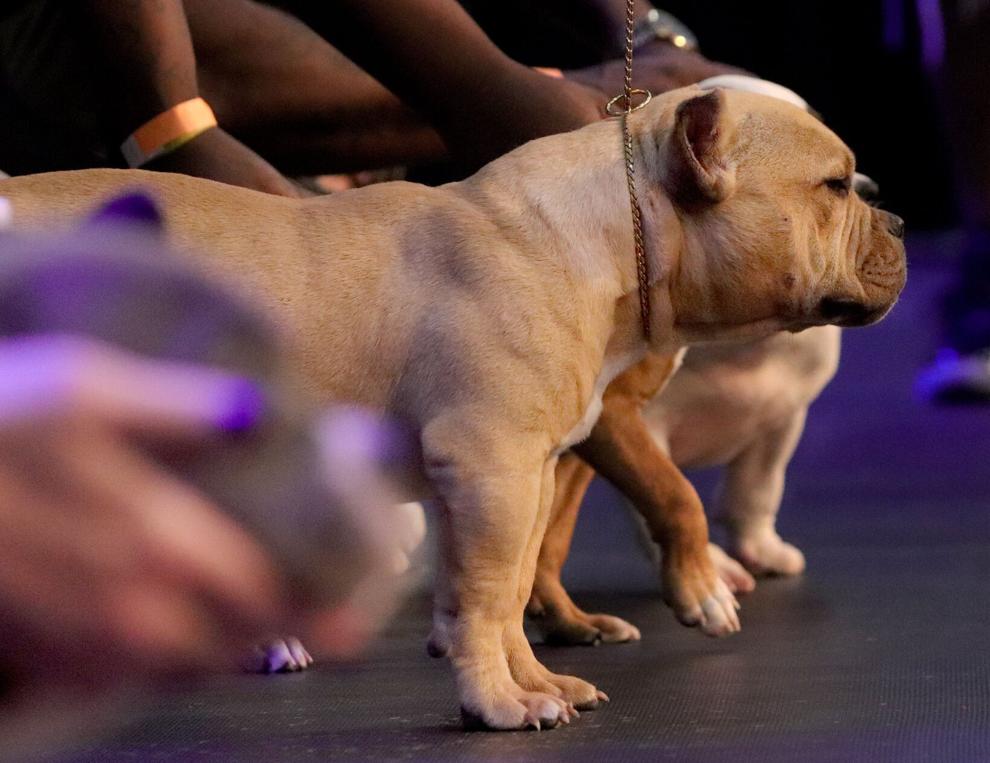 Show me the Bullz dog show
Show me the Bullz dog show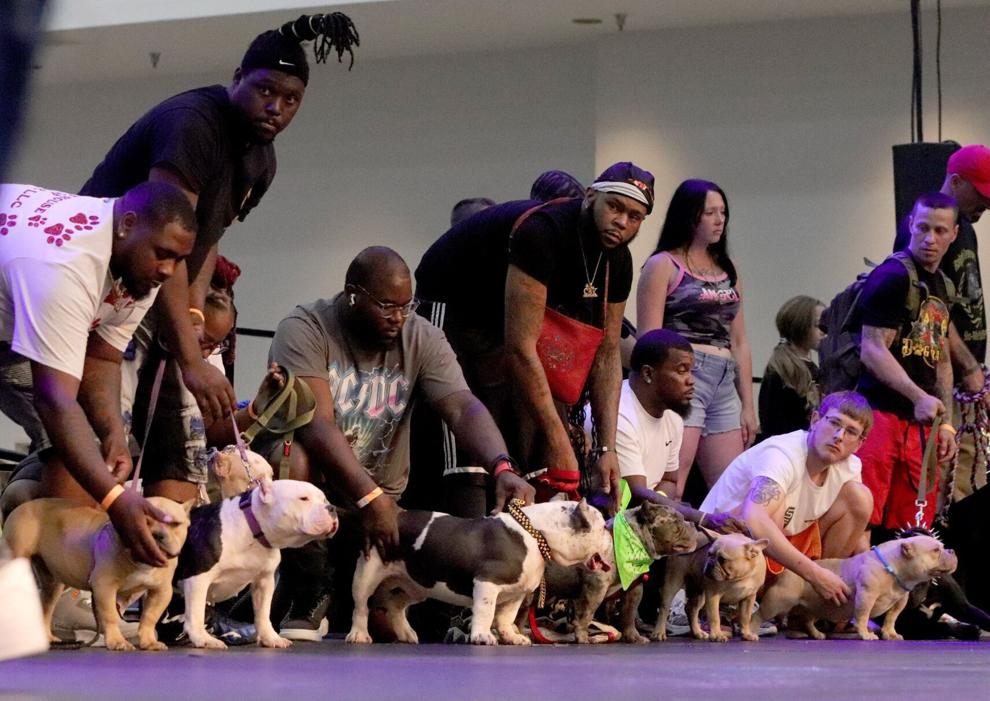 Show me the Bullz dog show
Show me the Bullz dog show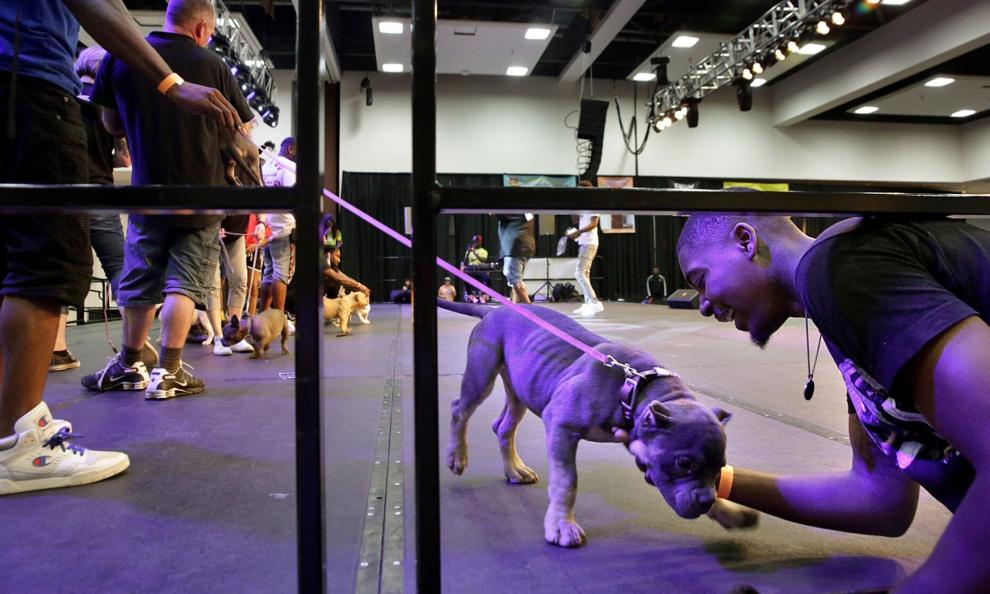 Show me the Bullz dog show
Show me the Bullz dog show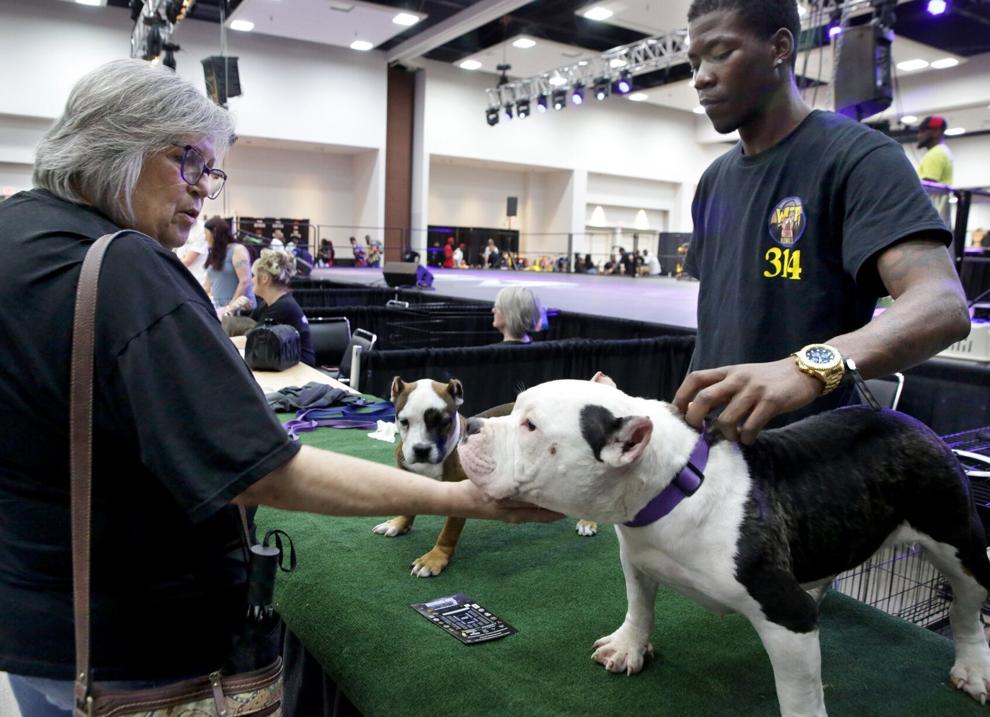 Show me the Bullz dog show
Show me the Bullz dog show