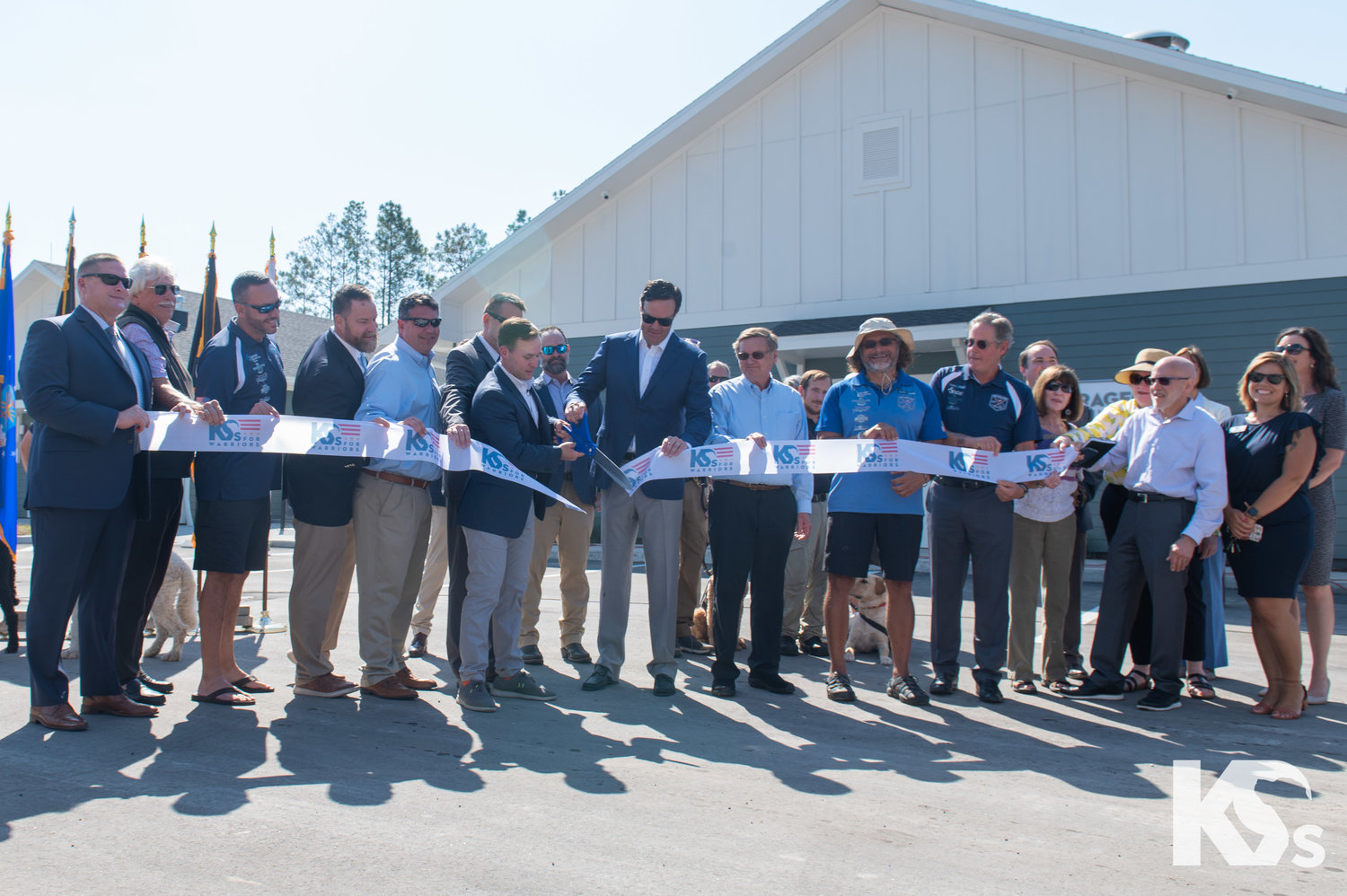 K9s For Warriors celebrates the opening of the first phase of the service dog training facility
K9s For Warriors, the nation's largest provider of trained service dogs for military veterans, held a ribbon cutting ceremony on May 16 to commemorate the opening of the first phase of the Davis Family Mega Kennel. The facility, which is minutes from the national headquarters of the nonprofit Shari Duval, is located on a two-acre lot donated by the Davis family in northeast Florida.
Phase one of the Davis Family Mega Kennel will allow K9s For Warriors to train 88 more assistance dogs in training, dramatically reducing the four year waiting list. After completing the second phase, the waiting list will be cut in half. Phase one consists of 68 kennels, 20 wellness kennels, a K9 enrichment area, a food storage building and by the end of summer a splash pool.
Part of the funding for the phase one buildings was provided by the Davis family, Lee and Dorothy Thomas, veterans of Foar from Home and Flagler Health+.
"Today is a great day for our veterans across the country and for so many dogs waiting to be given a chance," said Rory Diamond, CEO of K9s For Warriors. "In 2011, Shari Duval set out to improve the lives of veterans dealing with the invisible wounds of war by providing them with rescued service dogs. Today we remain steadfast in our mission to save lives. The Davis Family Mega Kennel will allow us to rescue more dogs and place them in the hands of our veterans in need, thereby changing their life path for the better. This facility will also drastically reduce the time our future warriors will have to wait to obtain a service dog, which currently extends to 2026."
With the overwhelming demand for service dogs and the ongoing veteran suicide problem with nearly 20 veterans dying by suicide every day, the Davis Family Mega Kennel is imperative. K9s For Warriors is committed to ending veteran suicide and helping veterans who are dealing with the unseen wounds of war, including PTSD, traumatic brain injuries and military sexual trauma.
The first phase cost around $8 million to complete. Construction of the second phase will begin in the coming months with support from the State of Florida and donors.
State Senator Travis Hutson and State Assemblyman Sam Garrison lobbied for $2.5 million in state funding for the second phase. State Senator Jennifer Bradley and State Representative Cord Byrd also pledged $750,000 to help with operating costs. In addition, the David and Cheryl Duffield Foundation provided a donation to complete the veterinary clinic.
To learn more about K9s For Warriors and to support the charitable programs, visit k9sforwarriors.org.