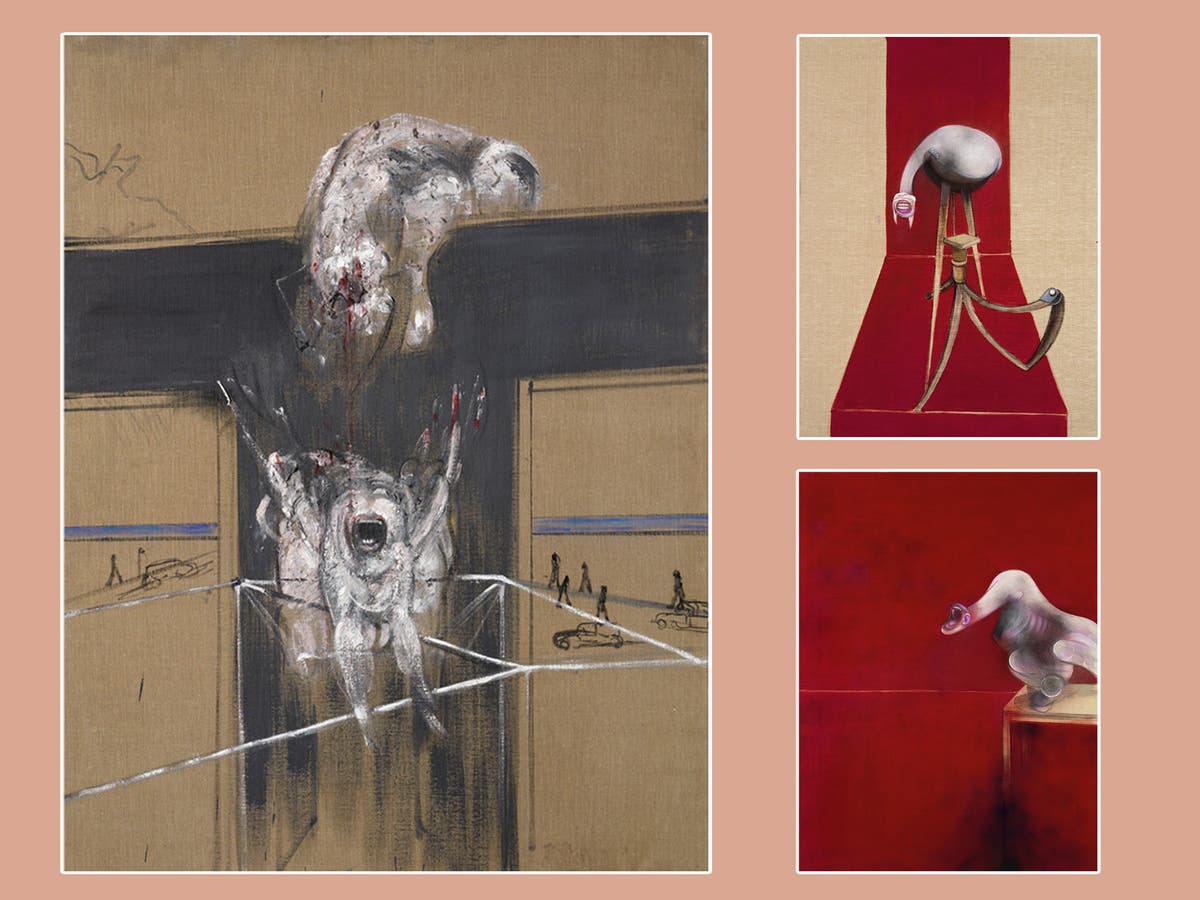 Francis Bacon – Man and Beast Review: Post-Holocaust Surrealism That Still Feels Raw and Invigorating
Francis Bacon may still be widely regarded as 'the greatest British artist of the 20th century', but given that we are now nearly a quarter of the way into the next century, that hardly guarantees relevance. Bacon was a gay, sadomasochistic alcoholic who transgressed all the bounds of petty-bourgeois propriety, but he is still, at the end of the day, another dead white man. The mood of post-war angst he so unnervingly embodied now feels a long, long time ago, and the tales of epic dissipation and nihilistic aphorisms have become boring with repeated repetition.
A major Bacon exhibit is always a significant event, but it will have to work much harder to hold our attention in these culturally contested times than it would have even 10 years ago.
This exhibition – co-curated by writer Michael Peppiatt, author of one of Bacon's most entertaining memoirs – is the first to look at Bacon "through the prism of his fascination with animals". It is not just "the animal", the stream of visceral physicality that runs through his work, but actual animals. Bacon paintings of monkeys, dogs and bulls come to mind immediately, but it's hard to imagine there being enough of them to sustain a large display.
The show, however, argues that the artist, who grew up on an Irish stud farm, had an obsessive interest in "how animals fight, how they mate and how they die", and that he was "convinced that he could analyze humans more directly." and revealingly by observing the behavior of animals".
While Bacon's studio was apparently stuffed with "wildlife books", his interpretation of animal form was hardly scientific. In the opening table of the show head i (1948), a male human head and the ferocious bared teeth of an ape coalesce into a single blurry form, with the alarming, typically Baconian sense that the aggressor and the attacked, the eater and the eaten are one and the same. 'a.
In the next room, in an electrifying atmosphere spectacular turn of events, we are shown three very old paintings, from 1944 to 1946, depicting, according to the exhibition, "furies" – ancient Greek deities of guilt and revenge that the artist employed to "embodie his own sensations and disturbing emotions", but evoked through banal and modern objects. In Figure Study I, the character's presence is suggested by a draped tweed overcoat and hat. In Figure Study II a screaming eyeless figure emerges from the cloak, while in Fury, the figure is reduced to a gaping, voracious mouth on spindly limbs.
Whether or not these works, united by their bright orange backgrounds and dramatically lit, are meant to be seen together as a sort of triptych, as they are here, the effect is striking. It's a kind of post-Holocaust surrealism that still feels raw and empowering.
After this taste of the first Bacon at its absolute best, the level of the works barely dips into a large room devoted to "wildlife", where images of monkeys are shown (a chimpanzee evoked in a blurry mass of stains of paint peels off), dogs (including a famous image of an exhausted mastiff spotted by the side of a road on the French Riviera) and a number of naked men having messy, muscular sex.
While I'm willing to be sure that the grassy settings of these later paintings were inspired by sightings of animals traversing long sunny grasses, which had "hypnotized" Bacon on a trip to South Africa, the show interprets his interrelated perceptions of human and animal conditions so broadly, it becomes an excuse to include just about any Bacon work.
The portraits section finds space for four of his seminal paintings of the pope – only one of which includes animal images – on the grounds that he "strips the pretensions of even the highest strata of society", presumably to an essence" animal" (the wall texts frequently veer into specious pop psychology). But it's hard to complain too bitterly about works of the quality of Study of the Portrait of Pope Innocent X (1965), VI head (1949) and Pope I (1951), all inspired by a large portrait of Velasquez that Bacon remained obsessed with for decades.
Bacon sees an undercurrent of violence and cruelty not only in the image of Velasquez, but in the whole process of confinement and examination of the human form: two of his popes are contained in cage-like structures; we scream in anguish or agony. Bacon's quintessential questions of whether he is appalled by this cruelty or simply enjoys it, whether the violence of his brushstrokes is spontaneous or highly calculated – questions that might have grown weary over the decades – still seem fresh and immediate.
It is therefore a sonic journey through Bacon's career, with an animal theme often loosely applied: are the stained figures in one piece on "The Animalistic Nude" more "animalistic" than those in other paintings of Bacon – if that's even a real word? With most of the works coming from British collections and many of them frequently exhibited, there will be few revelations for the seasoned Bacon enthusiast. Still, he provides a compelling and welcome reminder of why he's still such a hugely important artist.
If the quality of the work drops in the second half of the show, it's simply a true reflection of Bacon's trajectory. Where some artists, like Picasso, one of Bacon's great early inspirations, were able to vary and expand their output endlessly, Bacon continued to refine the characteristic tropes developed early in his career.
The blurring and deconstructing effect he pulled off from long-exposure photography, which makes his subjects appear to be sliced ​​up in front of us – seen to powerful effect in Portrait of Isabel Rawsthorne (1966) – has become mere stylistic mannerism by the time we come to Two studies of the human body (1974-75), with his naked athletes based on anatomical photography by Eadweard Muybridge. The handling of the paint is virtuosic, but the distortions lack real conviction.
A trio of bullfighting paintings from 1969 give a superficial impression of power and energy, although at this point in his career he has that "Bacon look" in place. The feeling of rawness and discovery, of being at the limit of what is possible, felt in the first rooms of the show, has faded over the decades.
Yet even at this late stage Bacon could still conjure up a truly hair-raising sense of moral unease. In Triptych August 1972, we see three nude images of Bacon's lover, George Dyer, who had committed suicide the previous year on the eve of Bacon's major retrospective – the crowning achievement of his career to date – at the Grand Palais in Paris. With Dyer variously appearing to melt to the ground, reduced to a redundant pile of flesh, or with parts of his body sliced ​​and cut out against the black background, the painting appears to be both a tribute to one of the great loves of Bacon's life and a kind of murder in painting.
At such moments, we feel ourselves on Bacon's shoulder, gazing into the moral abyss in a way that is both terrifying and exhilarating. It is this sense of unwavering ambiguity that will make this exhibition particularly relevant to our current uncertain times.