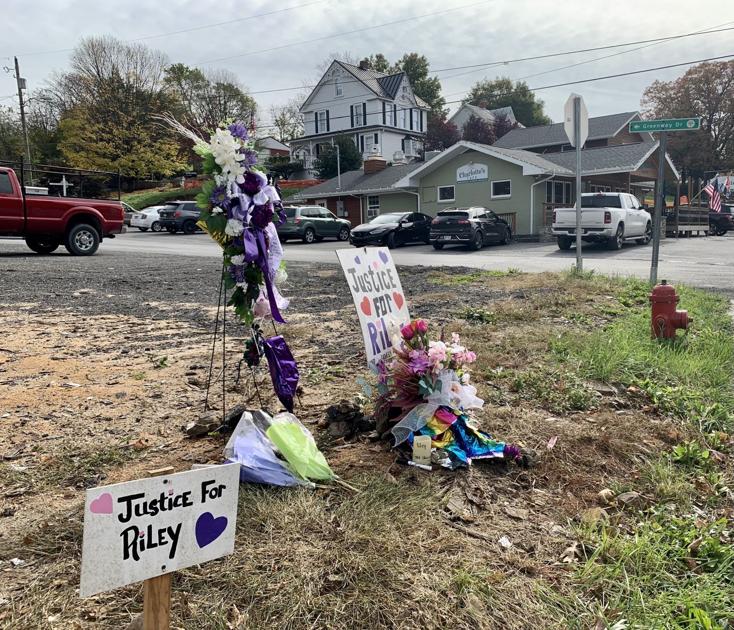 'Chatting on social media' discussed during McCauley's life sentence | Newspaper
BERKELEY SPRINGS – Andy McCauley, Jr. was sentenced to two consecutive life sentences, plus one to five more years, Thursday afternoon for his convictions in the murder of Riley Crossman, a 15-year-old from Berkeley Springs in May 2019.
"Andy took everything away from us," Crossman's mother Chantel Oakley and McCauley's ex-girlfriend said in court in her grim victim impact statement Thursday.
Thursday's conviction came after all guilty verdicts were returned on Oct. 5 by a 12-person Morgan County jury. Sighs of relief and tears of joy filled the courtroom from Crossman's family and friends, as well as prosecutors and police, as the verdicts of first degree murder, death of a child by the guardian by child abuse and concealment of a human body were read.
Much like he did during his trial, McCauley chose not to speak during his conviction. His silence, according to 23rd Judicial Circuit Court President Debra McLaughlin and Oakley, means no one will ever know what happened in the wee hours of the morning of May 8, 2019.
Oakley said McCauley left Crossman across the road on Tuscarora Pike in Berkeley County for nine days and said nothing while they frantically searched for and worried about his safe return. Even today, she continued, McCauley sits, watches and says nothing.
"Only he can tell us what happened and why," Oakley said, adding that no punishment was working for her, and she hopes he never sees the light of day.
During his argument to send a "clear message" to the community with consecutive sentences, Morgan County District Attorney Dan James made a "community inference" that Oakley was involved or that McCauley was taking responsibility from someone else.
"There is no evidence in this case that anyone other than Andy McCauley is guilty of this crime," James said, noting the extensive evidence examined in the case for hours by all state agencies and federal officials involved.
Justice McLaughlin said she felt "extremely sad" for Oakley with the social media chatter and apologized if she allowed the trial to be advertised on TV on top of that. She added that the positives of the streaming are that the community sees the law enforcement efforts in the matter.
Although not admitted as evidence at trial, James discussed information that could be seen as a possible motive. McCauley's former partners feared he would be sexually aggressive when "speedballing" or under the influence of heroin and cocaine.
Throughout the trial, the question remained: why was McCauley in Crossman's bedroom, as text messages between the victim and her boyfriend confirmed on the night of her disappearance?
"Andy is in my room. I'm scared, baby," read these messages.
James said it shows Crossman was not afraid of anyone other than McCauley.
A series of hypothetical questions, along with evidence presented during the trial, show the state's theory that McCauley sexually assaulted Crossman and suffocated her by thrusting his head into his pillow, which contained a mixture of his blood and saliva.
Crossman was reported missing to police on May 8, 2019, after she failed to arrive at school or return home. Police immediately began working over 16 hours a day to search for the missing teenager, and community searches were also carried out.
A research hiatus occurred on May 15, 2019, when a dead dog indicated the positive presence of a deceased person odor in the truck bed, particularly under the utility toolbox in the truck bed.
Police then began to investigate other possible routes McCauley could have taken back to Hedgesville, shooting video footage from cameras along that route.
West Virginia State Police Corporal. Fred Edwards testified that the truck was spotted at 12:21 p.m. near the Hernandez store on Apple Harvest Drive in Gerrardstown, less than six miles from where Crossman's body was found on May 16 around the 5500 block of Tuscarora Pike.
While the defense called for concurrent sentences for the sentence of life imprisonment without mercy for first degree murder and the death penalty for life per child, from 15 to life, because they occurred as a result of 'a single transaction, McLaughlin said she had no intention of lessening the gravity and heinousness of the acts by granting concomitance.
As a result, McCauley was sentenced to one to five years for the cover-up charge, 15 to life for the child abuse charge and to life without mercy for the murder charge to serve one after the other and not at the same time.
Prior to sentencing, McLaughlin J. dismissed the defense motion for a new trial in the case. The defense has also requested additional time to possibly prepare an appeal in this case.