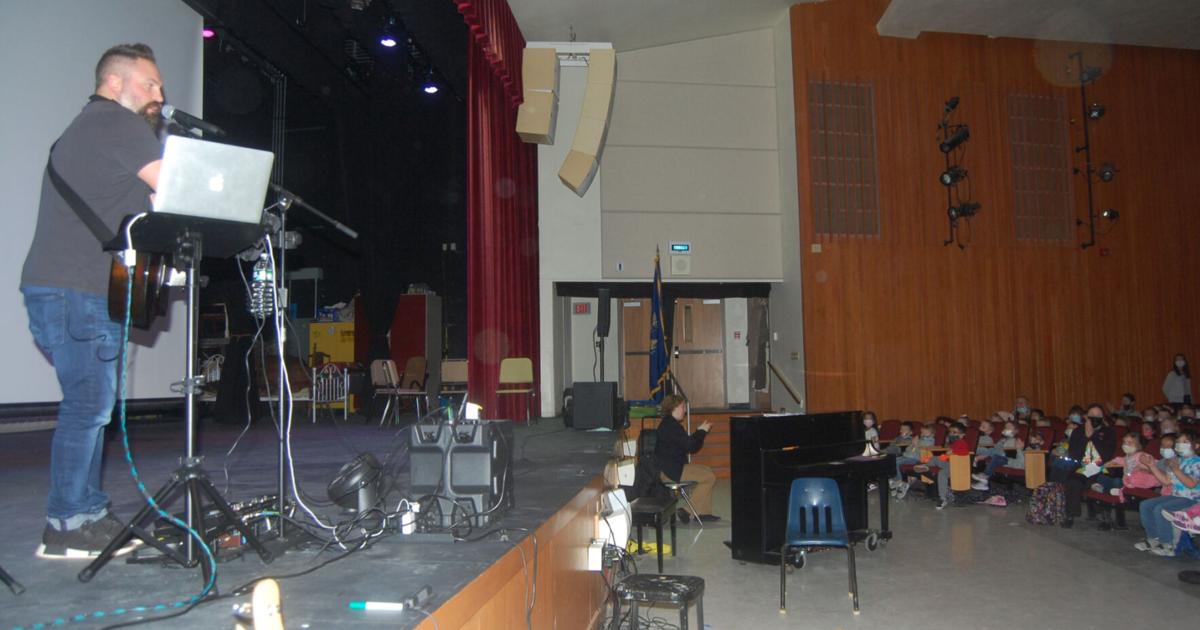 Carthage students encouraged to be superheroes | education
CARTHAGE – The auditorium at Carthage Central High School was filled with laughter, singing, clapping, barking and total silence as Jared C. Campbell led the children in song and shared anti-bullying messages on Thursday morning.
The school district used a $2,500 Safe Schools Endeavor Grant through the Northern New York Community Foundation to fund "Superhero Anti-Bullying," a program focused on overcoming obstacles, anti-bullying, respect, leadership and maintaining a positive outlook on life.
The award-winning Binghamton-based singer/songwriter travels the country spreading his message through original songs, humor and personal stories.
In his first session with 700 students from kindergarten through second grade, he opened with a song, "Love Like a Dog," while photos of dogs were projected onto the screen behind him. He told the kids that showing kindness turns you into "a real superhero."
As the kids sang along to the lyrics to "The Superhero Song," he explained that there are three things to being a superhero—show respect, stay safe by following the teachers' directions, and look out for one another.
Mr. Campbell said that to be a superhero you have to do the right things every day.
He gave some scenarios of situations children might face and asked them what choices they would make.
With the last song, "No Bullies Allowed," he invited all students to join a club where no bullies were allowed and encouraged the kids to lift people up, not put them down.
West Carthage Elementary first year, Juliana E. Brennan, said she heard the songs on video before the meeting and "loved it." She said her favorite song was "No Bullies Allowed," adding, "Bullys are bad."
Kayla I. Mazariego, a kindergarten teacher at Black River Elementary School, said it was "the best concert ever."
"I liked everything," she said, noting that she'd learned the importance of being kind.
Mr Campbell said the next show for third and fourth graders would be "completely different".
He said he would talk about making history.
"It's a crazy time," he said, noting that he would talk to students about being themselves, never giving up, and learning to be a leader.
According to his website, Mr. Campbell's "primary focus is to allow his music to impact the lives of his listeners through experiencing joy, finding solace through pain, and overcoming obstacles to live better lives".
In addition to the two school assemblies, families in the Carthage Central School District will have the opportunity to watch a virtual family show through Parent Square on Sunday at 4:30 p.m. The program will be recorded for families to watch at a later date across the school grounds.
According to Mr. Campbell, the family concert, which will be broadcast live from his studio, will include aspects of each of the school's plays and last about an hour.
To learn more about Mr. Campbell and his mission, visit his website at jaredcampbell.com.