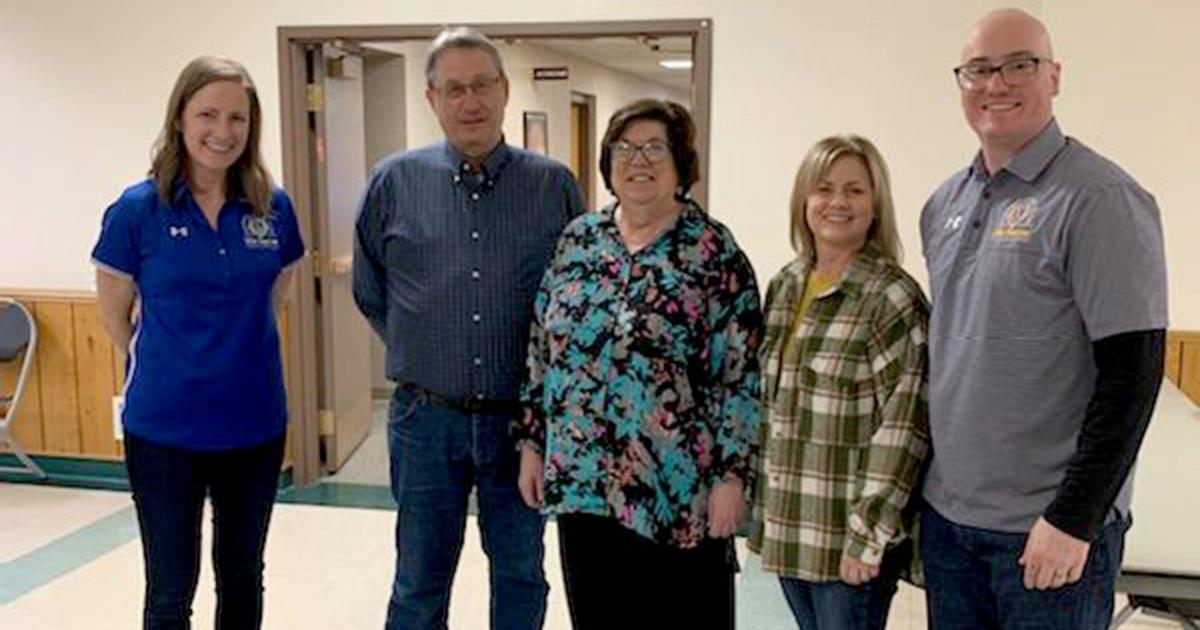 Carroll Lions Club Welcomes 3 New Members | Messages
The Carroll Lions Club recently welcomed three new members: Gail Goodner, Diane Ohrtman and Amy Christian.
Lions Clubs International is the largest and most effective community service group in the world, and the Carroll Lions Club is one of more than 46,000 clubs in 200 countries with 1.35 million members, according to a Carroll Club press release announcing the new members will.
The publication continues, "Lions clubs around the world have provided opportunities for people to give back to their communities. Regardless of the club's location, Lions are committed to seeking out and helping those in need, addressing difficult issues such as blindness, diabetes, hearing loss, and sponsoring many youth programs.
"Lions members are committed to improving the quality of life in their communities by building and improving parks, supporting hospitals and daycares, and funding many community improvement projects."
The motto for Lions members is "We Serve."
A native of Harlan, Goodner graduated from Iowa State University with a Bachelor of Science in Animal Sciences in 1978 and worked in swine procurement from 1979 to 2021. He has worked for Farmland Foods, Swift and most recently JBS. He was very active in the Wall Lake Fire Department as an assistant chief and treasurer and was also a first responder for 26 years. He and his wife Barb have two daughters and six granddaughters.
Christian lives on a farm north of Scranton with her husband Don and their two children Lily and Lucas. Lily is a junior in the University of South Dakota's dental hygiene program and Lucas is a freshman at Glidden-Ralston High School. Christian is entering her 12th year as a Business and Technology Instructor at Des Moines Area Community College in Carroll. She also works as a certified medical assistant at New Hope as needed. She spends a lot of time participating in her children's activities and with her extended family and friends. Reading and traveling are two of her passions. In addition to being a new member of the Carroll Lions Club, she is also a member of the Scranton Community Center Advisory Board and an active member of the National Business Education Association and past President of the Iowa Business Education Association.
Ohrtman grew up in the Lytton-Rockwell City area. She was a Rockwell City Lion and served two terms as President. She has one brother, three children, four grandchildren and two great-granddaughters.
She retired to Carroll and works part-time at New Opportunities and started a sewing business.
Visitors to the conferences are always welcome.
Projects sponsored by the Carroll Lions Club over the years to provide support include:
— Helping those in need to buy glasses and hearing aids.
— Offer free eye tests to preschoolers.
— Collect glasses for use in third world countries.
— Sponsor children's Christmas shopping.
— Sponsor local non-alcoholic after-prom parties.
— Annual scholarships for local university graduates.
— Donor of new playground equipment for local parks.
— Guide dogs for the blind
— Iowa Lions Hearing Aid Bank
— Cochlear Implant Center
— Relay for Life of the American Cancer Society
– Lions Club International Foundation
— Great Sioux Alzheimer's Association
The Carroll Lions Club meets on the third Tuesday of each month at 6:00 p.m. in various locations for good food, fellowship, and a program. Meetings were held at Swan Lake State Park, Carroll Brewing and the First United Methodist Church.
Meetings vary from get togethers to work on service projects, social outings or formal club meetings. Attendance is not required at every meeting; all levels of participation are welcome.
The club's press release said: "Our members are ordinary people who want to make a difference in the community and in the lives of others. Most come from Carroll and the surrounding communities, including a wide variety: men, women, retired and twenty-somethings, teachers, doctors, business people, housewives and members of various churches."
The officers of the Carroll Club are President Bruce Boehm, First Vice President Dr. Sondra Rierson, Second Vice President Dr. Jamie Ostrander, Secretary Ron Morlok and Treasurer Lisa Mohr.