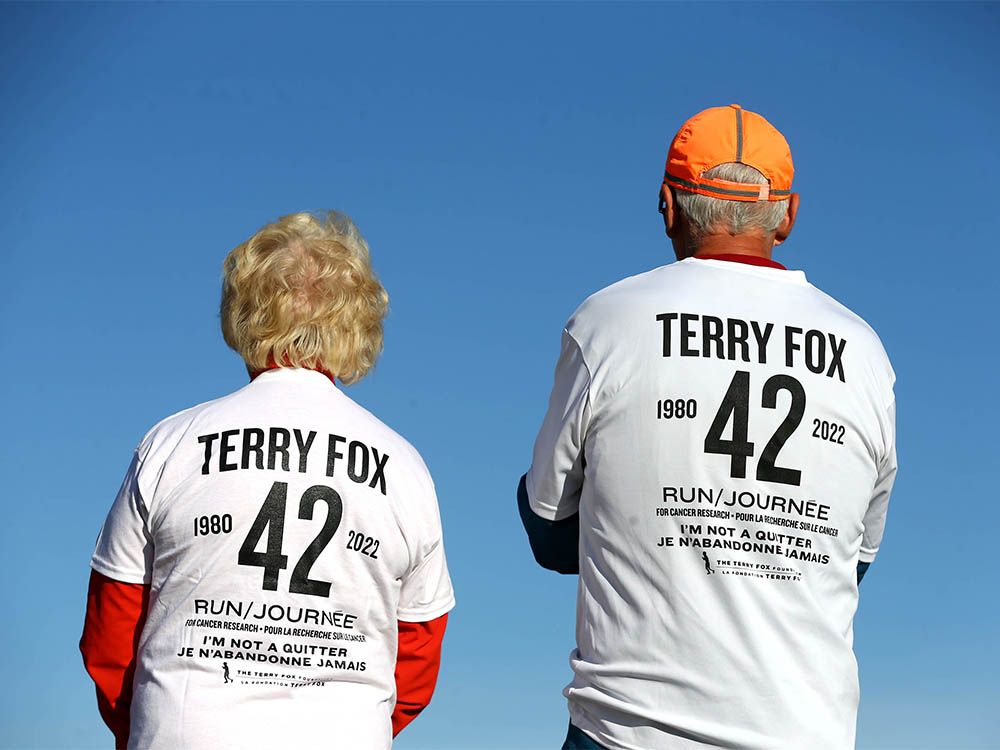 Calgarians raise funds for cancer research with Terry Fox Run
It is the first time since the pre-pandemic era that the annual event will be hosted in person
content of the article
Calgarians gathered Sunday morning for the first time in three years for the local Terry Fox Run to honor Terry Fox's legacy and raise funds for cancer research.
content of the article
Locals of all ages ran a 2-mile loop around Fort Calgary, raising nearly $250,000 for the Terry Fox Foundation. It's the first time since the pre-pandemic era that the annual event has been hosted in person, and Don Cowie said it was great to see friendly faces as he tackled his 38th Terry Fox Run.
content of the article
"I always look forward to the day of the race. It's such a special day for me because of Terry; I appreciate him very much. He was a real Canadian hero," said Cowie. "It was nice to get back together and see some of the people that you see every year at the run. It's always nice to find yourself with friends like that."
Cowie lost his leg to cancer years ago and said this year's run could have been his last.
"I just can't do it physically anymore. My hands and shoulders say 54 years on crutches is enough. They're telling me I have to stop," Cowie said, adding that he's glad schools are holding Terry Fox Runs so young students can learn more about the Canadian hero.
content of the article
"The Terry Fox Run is an institution. There are so many people involved in this and who have been there for years."
At the event, Bret "The Hitman" Hart said the day of the Terry Fox Run was the most important day for him as a Canadian.
"For me there is no greater hero, no better reason to be proud to be Canadian, no better place to be today than to be here at the Terry Fox Run," Hart said.
"I can't think of a better way to give back to a great Canadian and a great cause and I think it's been an incredible journey."
Hart, who is a cancer survivor, said the $850 million raised by the Terry Fox Foundation for cancer research was groundbreaking.
"I think we've got cancer on the run right now, and it's going to take the next few years to finally beat cancer once and for all," Hart said.
content of the article
Ken Larson spoke to the crowd in Fort Calgary about his friendship with Fox when the two attended Simon Fraser University years ago.
"He played basketball there before I got there and he lost his leg this year. The next year he came and became our team manager," Larson said.
They shot baskets together, Larson standing and Fox in his chair, and traveled to basketball games and stayed in touch afterwards. When Fox told Larson about his plan to run a marathon across Canada, Larson said he was blown away.
"He starts his run. It just picked up speed, speed up, speed up, to a point where the whole country got involved and the rest is history," Larson said. "He's still in everyone's hearts and that was very clear on Sunday morning."
content of the article
Larson was thrilled to see so many people running on Sunday, some pushing strollers, some using walkers and others walking their dogs and children. Although he hasn't run in years due to multiple knee surgeries, Larson ran on Sunday.
"Terry Fox inspired us all to become better people, not just to run, but to do everything in life," he said. "I firmly believe that inspiration is everywhere."
The Terry Fox Foundation website said Sunday afternoon that $224,472 had been raised in Calgary, surpassing the $200,000 fundraising goal.
Opinion: It is time to advance cancer research together and not to inaccurately politicize the disease

Clinical trials of "experimental" blood cancer treatment expand to Calgary

Cancer treatment and prevention beyond genetics: University of Alberta researchers

Calgarians participate in the virtual Terry Fox Run, raising over $181,000 for cancer research
[email protected]
Twitter: @BabychStephanie