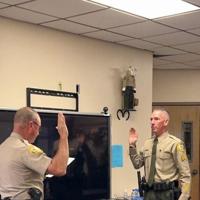 Benson returns with his canine partner | back to the sheriff's office Corning watchers
The Tehama County Sheriff's Office has one of its own, Sgt. Chris Benson, who returns to the department with a canine partner at his side.
"We are very pleased to have hired Sgt. Chris Benson," said Tehama County Sheriff Dave Hencratt.
Benson worked as an assistant sheriff for the Tehama County Sheriff's Office for about 17 years until he moved to Modoc County about four and a half years ago. Benson initially worked as a patrol deputy for the Modoc County Sheriff's Office, eventually becoming a dog handler and then being promoted to patrol sergeant.
For the past three and a half years, Benson has worked with a dog named Rogue, a 5-year-old male German Shepherd who is used for handler protection, suspect arrest, tracking, and narcotics detection for heroin, methamphetamine, and cocaine.
In 2020, with the support of a local citizen and generous legal work donated by a prominent local law firm and a prominent local certified public accounting firm, Hencratt was able to establish the Tehama County K9 Foundation, a California nonprofit corporation.
The specific purpose of the Tehama County K9 Foundation is to organize and lead a group of qualified volunteers to assist in the support and training of dogs for use by Tehama County law enforcement agencies and to purchase the equipment and other small items that are required for the rearing and training of such dogs.
"This cause is supported by generous donations from good citizens," added Hencratt.
Hencratt was able to negotiate Modoc County's purchase of Rogue for $10,000, with unanimous support from the Tehama County K-9 Foundation board of directors to spend the funds and complete the deal.
The Tehama County Sheriff's Office recognized this was a golden opportunity to reinstate Benson along with his canine partner, which will restart the process of rebuilding the sheriff's department program.
"Look forward to seeing Rogue and his partner Sgt. Benson on the road soon. They will also be present at future K9 fundraisers," Hencratt said.
Anyone interested in making a donation to the K-9 Foundation, purchasing merchandise, or learning more about the Foundation is welcome to visit www.tehamacountyk9foundation.org.